19th Annual Alki Swashbuckler Beach Vault
Sponsored by University of Washington Track and Field and Pole Vault Power
Saturday June 28, 2014, Alki Beach, Seattle, WA
Come join us for one of the most fun meets of the summer!


$30 registration fee if registered by June 20. $40 if registered by June 25. $50 if registered by June 27.
9.5% sales tax will be added to the registration fees.


NO DAY OF MEET REGISTRATION
Info on Tacoma Freedom Fair Beach Vault - July 4, 2014, Tacoma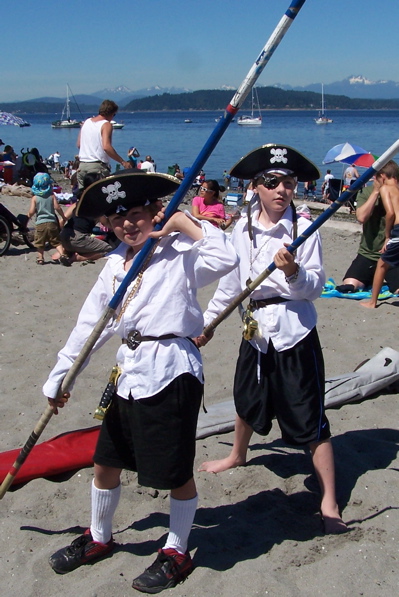 Join us on the July 9th on Alki Beach in West Seattle for the second longest-running beach vault in America! We will be in the middle of the Seafair Pirates Landing, guaranteeing a large crowd and lots of piratey fun. There will be music, vendors, pirates and more!
We will be using two runways for 2014. UW's super fast new mondo runway and UW's super fast old runway.
Free t-shirt to all competitors.
Schedule
Note that we may adjust the groups depending on entries. Entries will be posted as I receive them, and a final start list and time schedule will be posted or emailed to competitors before the meet.
Elite Competition
No prize money this year due to the date conflict with USAs. This will free up more prize money for Tacoma.


All participants MUST be a 2014 member of USATF. You cannot sign up day of meet. Join USATF here.
Canadian athletes may submit their 2013 Athletics Canada number.
Entry fees are waived for vaulters over 4.10m (women) and 5.20m (men) but you still need to email me and let me know you plan to come.
Parking
Please check out this map.
Parking is available on the streets surrounding Alki Beach. The later in the day you arrive, the farther away you will have to park.
2007 Results
2007 Alki Pictures
2007 Tacoma Pictures
2006 Tacoma
2006 Alki
2005 Tacoma
2005 Alki
2002 Tacoma
2002 Alki
2001 Tacoma
2001 Alki
2000 Alki (partial)

Pictures
2006 Tacoma
2006 Alki
2004 Tacoma
2003 Tacoma
2003 Alki
2002 Alki