25th Annual Tacoma Freedom Fair Beach Vault
Sponsored by Pole Vault Power
Thursday July 4, 2019, Tacoma, WA
Come join us for one of the greatest meets of the summer!

It is $40 to compete in the Tacoma Beach Vault if you register online by June 26, $50 if you register by July 1.

There is a limit of approximately 65 entries.

Registration is closed! Emails will be sent with the schedule by Tuesday evening.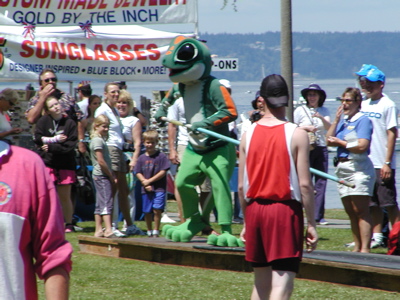 Join us on the 4th of July in Tacoma for the longest-running beach vault in America! We will bse in the middle of the Tacoma Freedom Fair Festival, guaranteeing a huge crowd and tons of excitement. There will be an airshow, fireworks, lots of vendors and more!
Free t-shirt to all competitors!
Schedule
TBA - Vaulters are in 4-5 groups by ability. Lowest groups go first.
Elite Competition
The elite competition is a unique opportunity for some of the best men and women in the country to compete head to head with a TBA bar difference.
There will probably not be any prize money for elites this year, sorry


Entry fees are waived for vaulters over 4.10m (women) and 5.20m (men) (in the past year) but you still need to email me and let me know you plan to come.
Parking
Please check out this map.
From I-5, take Hwy 16 west.
On Hwy 16, Take exit 3 - 6th St.
Continue straight (follow the signs for Hwy 163) this will put you on Pearl St.
You will be on Pearl St for about 2.2 miles
Then right on 46th.
About 0.6 miles later you will reach Ferdinad and signs for the Freedom Fair.

You will want to enter the Freedom Fair from the N 46th and Ferdinand entrance.
The road to the event will be closed before the competition starts. You will not be able to drop off your poles at the competition area. Please be prepared to walk a considerable distance with your poles. Carpooling is recommended!

Please allow ample time to park and walk to the competition.
2007 Results
2007 Alki Pictures
2007 Tacoma Pictures
2006 Tacoma
2006 Alki
2005 Tacoma
2005 Alki
2002 Tacoma
2002 Alki
2001 Tacoma
2001 Alki
2000 Alki (partial)

Pictures
2006 Tacoma
2006 Alki
2004 Tacoma
2003 Tacoma
2003 Alki
2002 Alki